Ways To Display Art in Bathroom:
Introduction:
Display Art or Artwork in the bathroom is one of the most powerful ways to transform the look and feel of a space. Beautiful bathroom art ideas go beyond just creating a decorative element that is traditionally ignored as one of the most glamorous spaces in the home. Bathroom wall ideas are being transformed by adding photography, watercolour paintings and prints, tapestries, mirrors, and even light fixtures. In the bathroom, you want to make sure your chosen artwork can stand up to steam, moisture, and splashing. The good news is that there are plenty of options available that are designed with just that purpose in mind.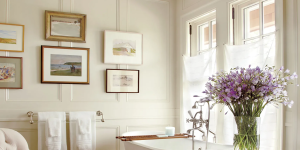 Create A Gallery Wall
The off-white walls and the vintage artwork create a warm and inviting atmosphere, while still maintaining a masculine feel with its table-turned-vanity and the rows of framed photos. The symmetrical placement of the artwork creates a gallery wall effect. 
Hang Wallpaper
Wallpaper is a popular choice for bathrooms because it can be easily cleaned and removed without damaging the walls if it doesn't work out. The monochromatic-themed bathroom uses an antique landscape photo and antique images over the vanity mirror to create an amazing, antique look. The wallpaper and sconces bring everything together by maintaining similar hues throughout the bathroom.
Use Dark Colours
Using a dark colour can be hard to carry out in a bathroom because the room is not usually big.  You can use good lighting fixtures to make a dark-coloured bathroom look beautiful. The darkie colour visually makes your bathroom seem bigger and increases the impact of white accessories, like the faucet and sink.
Add Paintings to Your Wall
Are you looking for a way to infuse some personality into your bathroom without making it feel smaller or cluttered? A painting is a perfect choice. You can go big and hang something directly above your tub or shower, or keep a unique piece on display as a focal point in the room. You can keep it simple and minimal, try finding a piece that is meaningful to you and using it as an anchor in the bathroom.
Add Vintage Look
The bathroom can provide a vintage feel for the homeowner with its wainscoting and large painting. The antique white wainscoting is painted off-white, and the white door gives this space a traditional look that contrasts well with the single tub. Likewise, an ornate chinoiserie painting in pale blue tones and cream colour settings that matches the colour pattern of the rest of the bathroom. The chandelier adds to the conservative feel of this design and provides ample lighting for getting ready in this antique bathroom.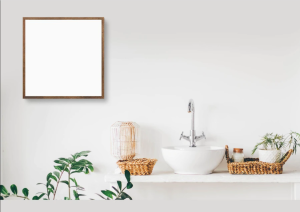 Try Soft Artwork
Add the artwork in your bathroom that should be minimal and well-organised. Moreover, you can use monochromatic images to decorate the wall of your bathroom. The organised images create a visual balance and offer the art pieces maximum impact. With the bathroom wall tiles being black, you don't need anything too busy or colourful. You can add the artwork or Display Art to the walls using different items, mirrors, hanging plates, and photography. 
Try a Minimalist Look
Minimalism is the essence of many things. Therefore, in art, it has to be minimal. When you do it the right way it can bring pleasure. A simple way to liven up your bathroom is with art. However, you'll need to consider the size and shape of your bathroom before choosing wall decor. You can add visual interest with a mirror or a canvas painting. Additionally keep it clean and contemporary with framed prints of your favourite paintings. 
Frame Bathroom Display Art With A Bold Colour
As with any design project, the style of artwork or Display Art you choose should be dictated by both your room and your taste.  If you're looking for a focal point, go for something bold and eye-catching, like this illustrative bathroom wall idea. Furthermore, it's big and colourful, with enough detail and design to make it memorable even as you take a shower. In contrast, if you prefer something more subtle, try an abstract piece. This will compliment your colour scheme and integrate better with your room overall, such as this watercolour bathroom wallpaper.