Have you made Spain your next itinerary for a hefty vacation this summer? If so, then you definitely need to know more about the most cherished and lusted over Spain food spots and drinking corners in the country as food remains the No.1 fantasy and obsession among the Spaniards.
Dazzle your tongue with exquisite and wild flavors from the Spanish cuisine
And if you come to visit Spain and don't try some of the most traditional dishes then it would be as if you didn't come to the country at all. From the most traditional of the Spanish food items, Mexican cuisines, you can even opt all the way to the Michelin star restaurants to have a taste of the luxurious cuisine that the country has to offer.
You need to try out different aspects of the Spanish cuisine such as the seafood, meat items, fried food, and some of the continental dishes as well. if you want to make your stay in the country a hit regarding all the famous food dishes that you can try then, by all means, you have to check out the following Spain food places to eat in Spain;
Asador Etxebarri
It is a fine dining experience that deals in all kinds that are even remotely related to fire and smoke. You will be able to find some of the most exquisite country cuisines in this place that have been either roasted or grilled. Every dish that comes out of the restaurant carries with itself a hinged aroma of smoke and a distinct taste of the country spices. Homemade Chorizo is definitely an earthy delight of this restaurant.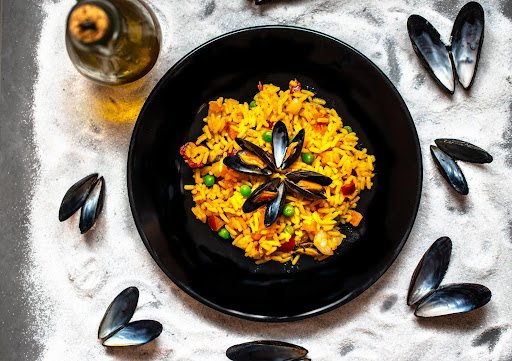 Mugaritz
If you are one of those foodies who are always in search of new foods and dishes that are exquisite and don't fear to go a bit out of the box? If so then you are definitely going to feel yourself at home with the Mugaritz. The Gnocchi and other pasta dishes are an all-time hit of this restaurant and people from the countryside and Urban areas all come rushing in to try out some of the most artistic dishes and food varieties that this place has to offer.
Arzak
This restaurant is home to authentic Basque Cuisine all over San Sebastian. It has become the second restaurant in Spain to have ever acquired 3 Michelin stars over the years. You would be able to get your hands on some of the dishes that are extremely hyped about in this restaurant and on top of that new dishes are being developed annually to introduce variety and finesse before the guests.
We would recommend going for the grilled oysters or even roasted duck to have a complete meal experience in there. But if you are a bit of a sweet tooth then surely you would love to have chestnut ice cream and even the chocolate cube that is the most famous for this place.
El Cellar de Can Roca
Have you heard a lot about Catalan cuisine and how it is an extremely authentic and rustic cuisine out there? This almost makes you want to try out this cuisine but wait as you can have a more interesting and inspirational take on the Catalan Cuisine by El Cellar de Can Roca. Sea Food lovers would be absolutely dazzled with the variety of the food that is made available by this restaurant and the imaginative and creative spirit of the chefs of this restaurant will definitely make your dining experience in Spain a traditionally remarkable one.
Paco Roncero
This is a restaurant that not only offers the most authentic Spanish food that has been true to its roots from century-old traditions and other than that offers a unique 19th-century sitting area as well. Another great reason to view this restaurant is because of the elegant views of Madrid that you will be able to save in your eyes forever.
Some of the sweet delights and the seafood section is primarily among the greatest offering from this restaurant. Have you ever heard about the black truffle cake? Want to try one? If so then head over to this restaurant and you will be able to taste countless such dishes that are an absolute hit among the Spaniards in terms of food & drink.

Final Thoughts
These are some of the places that you want to go to if you truly want to bask in the original Spanish cuisine. Don't feel overwhelmed with a variety of dishes and creative takes on the different traditional dishes as you would definitely be enjoying yourself.
READ NEXT: Greenhouse restaurant: a modern African dining experience
RELATED TOPICS: Good food