Art is all about exploring. It's good to have an art style that you've loved for quite some time. But it's even better to open your mind and dive into all the different art genres out there. 
It doesn't matter whether your aim is self-exploration or revamping your house interior design. Have a look at these 11 different art styles – you can try them on your own or keep an eye out for them in the global art market. Here are some best Art ideas for you.
African art
Africa has a melting pot of different art styles. Generally, African art is all about fun, vibrancy, and expression. You'll find bold colors and the use of black quite charming in the human figures. The blend of abstract and traditional elements is unique, adding a sense of movement to any dull room.
2. Japanese art
If you love dreamy drawings and paintings, look no further than Japanese art. Cherry blossoms, geishas, beautiful temples, and many other symbols can be found. Japan has a style that's unique to the country. 
Apart from traditional Japanese drawings and paintings, you will find many other forms of art. Pick from a variety of silk paintings, calligraphies, origami (folded paper art), and prints on wooden blocks. Coming to the modern side, you have anime and manga to choose from as well.
3. Indian art
Featuring bold colors and vivid designs, Indian art can take anybody's breath away. There are many different styles within this genre, two of the most popular are the ones that fall between the 1400s and 1800s, that had a touch of Persian artistry as well. 
Also known as Indian miniature painting, you'll find these artworks made in stunning watercolors, along with a hint of gold to portray the royal people of that time, such as the sultans and kingdoms. You can also find plants and flowers within the work, which is known as Mughal miniature.
If you don't want to go that deep into Indian history, check out artworks painted during the British era. The classic oil paintings could make any room beautiful, also keep an eye out for the elephant – it's one of those animals most symbolized in India!
4. Islamic art
Do you like beautiful, dazzling patterns? Islamic art revolves around geometric art styles. Islamic artworks consist of mesmerizing geometry such as repetitive shapes like hexagons, rectangles, five-pointed stars, six-pointed stars, and so on. 
When choosing Islamic artworks for your home, pick a painting based on the colors you already have in the room. These could be with respect to the walls, or even in contrast to home Decorating Ideas such as rugs or vases. You can also go one step ahead and get a carpet with an Islamic Design Inspiration on it.
5. Science fiction 
Science fiction is fascinating not only in the form of written word, but also in visuals. If you love futuristic visions containing high-tech buildings or even something tech-savvy like robots, sci-fi art could be a great pick for you. You can also go slightly towards the fantastical side, exploring aliens or star wars fan art!
6. Graffiti style
Are you more of a funky art lover? Bring the wild style to your homes by getting artworks that look like they've been taken right off the walls of the streets. In its most classic form, you could picture some lively splotches and splashes, with perhaps some text to go on top of it. Spray paints on canvas are typically the most appropriate and proper medium for this type of art.
7. Dot paintings
Pointillism is an actual field of art in which the image is created by bringing many dots together. While this type of artwork is highly-detailed, there's another twist to dots that are less strict. You could buy paintings in which fun designs have been created by using multicolored dots.
8. Spiritual art
You could purchase paintings that are Even if you don't affiliate yourself with any religion, you could find spiritual artworks easily. For instance, a painting containing a window that opens up to let the light in. So with this genre, it's all about symbolism and the use of colors.
9. Fantasy art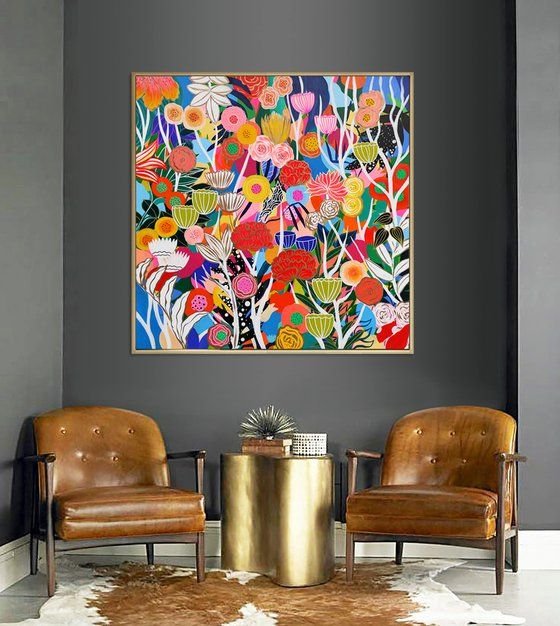 Although this genre is mostly used for creating scenes in paintings and films, it's not limited to the entertainment arts. In this art style, artists paint magical realms and creatures like fairies and dwarves. You could find high-end magic or small subtle hints of it like, similar to that in classic fairytale illustrations.
10. Mandala art
Do you love patterns that make your mind spin and look deeper? Mandalas are popular in traditional Buddhist and other ancient art styles. You create a circle and fill it with dazzling patterns. Dots, curves, petals, and all sorts of tiny shapes can be used to create intricate artworks that reflect both fun and meditation. 
11. Contemporary abstract art
Last but not least, if you want to go all modern interior design, there's nothing better than contemporary abstract art. Using only colors, shapes and textures, not only is this genre minimal but it can also be very expressive if you get the brush strokes right. 
So which one of the above art genres and styles did you find most appealing? Let us know!
READ NEXT: 20 BEST WALL DECOR IDEAS TO DECORATE YOUR BLANK WALL
RELATED TOPICS: beautiful interiors