When it gets cold, birds hover around to find comfort. But not every outdoor space has birdfeeders installed for our feathered friends. Whether you have an open garden or a porch, you could always make your own bird feeders.
Some creative DIY bird feeder garden ideas include hanging ones and those stuck to the wall space. For both types, a few common materials are cardboard boxes, paper cups and bowls, tins, mason jars, and even plastic bottles.
1. Cardboard box cutout
Have many cardboard boxes to spare? Well, the more, the merrier! Simply make a circular opening and rectangular windows as you please. To go crazier with the DIY cardboard birdhouse idea, why not stick together multiple boxes and create a sort of hotel for your feathered friends? Make this multi-storied project 
2. Paper cups and bowls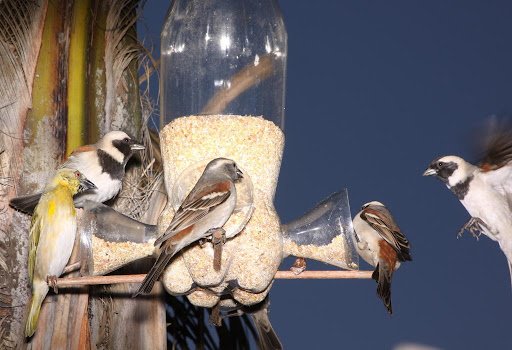 Make your birdfeeder multi-tier and more interesting by combining paper cups and bowls. You could use the paper cup for water and the plate for food. Cut tiny holes in both and add ropes to join bowls and the cups. You could also hang them separately.
You can also take two plates and use one of them as a roof, while the other as the base. Join them together using yarn between the two materials and one above the first plate in order to hang it easily.
3. Tins
Since tins can be narrow, you can use a sharp knife to cut two holes on opposite sides of the walls. This would give your little birdie friends plenty of space to enter the vessel without having to dig deep.
Another Design Inspiration idea with tins is to use them like planters stuck to the walls. Keep the opened side faced towards you and hang the vessels using a grid or net above the wall. 
4. Mason jar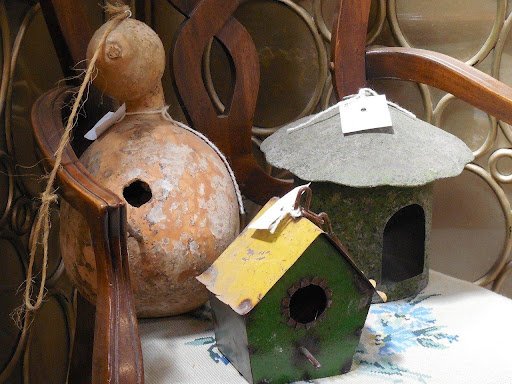 The best way to use a mason jar is in the horizontal orientation. If you use it vertically, the birds will have a hard way of getting in. Simply take off the cap to use as an opening and fill the container with a variety of small treats. If the vessels are transparent, you could see your bird friends walking inside, which looks very charming! Be careful though, in the case of glass, you may need to find a piece of wood to hang first and then firmly stick or tie the jar on top of it.
5. Plastic bottle
What better way to recycle a plastic bottle than convert it into a bird feeder or birdhouse? Make tiny opening holes or you could even entirely cut off the bottom (circular base) of the bottle for a wider opening. Just like mason jars, the best way to go about plastic bottles is to have hung them in a horizontal position. If you want to make tiny holes for the birds to peck into, you can do that as well, instead of turning the container into a complete DIY birdhouse.
Quick tips for DIY bird feeders and birdhouses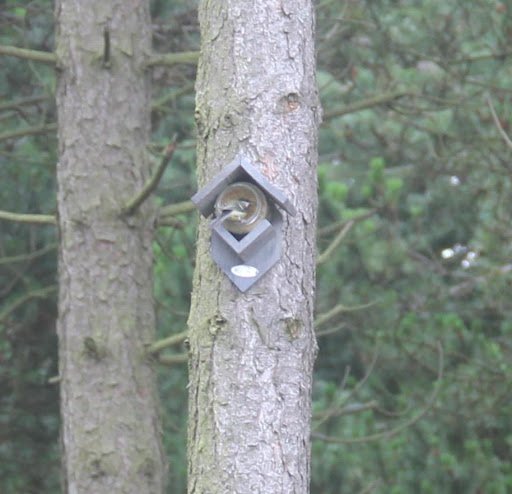 Hanging and maintaining your homemade birdhouses correctly is essential. You need to keep your feathered friends as protected as possible from predators like cats and even birds like eagles, falcons, etc. 
Here are some tips that will help you make the best of the situation:
Hang the birdhouse in a place where there are bushes around. That way, the small birds can hide themselves in the thick leaves in case of a sudden attack.

It's best to have the birdhouses under the shade. Harsh weather conditions can wear down the DIY homes, such as violent winds or days when it's raining hard.

Make sure you use a tight rope to hang the bird feeders. You wouldn't want the birdhouse to fall down. Especially the ones made of fragile materials like glass.

For heavy vessels, it's best to have a base as support. Wooden blocks are the most perfect choice but you would need a drilling machine, along with highly adhesive items like super glue or electrical tape.

Make your birdhouses more fun and attractive by painting over them in bold colors and patterns. You can also use colorful beads, ribbons, and strings.

You can also add or stick extra small pre-made accessories like transparent bird feeders on the outside.

Maintain and clean all the DIY birdhouses now and again. Keep a weekly and daily schedule to check in on the birds. As for the water and food levels, keep a check on them daily. You can use oat flakes, low-fat cottage cheese, crushed corn, and other such foods easily available at home.
Conclusion
So with the above Decorating Ideas, you can level up your recycling and creativity game further and also make more feathered friends. Own your place by making it livelier with birds chirping around. If they like your place a lot, they may even decide to live permanently!
READ NEXT: Plant Foundation – Excellent Low maintenance Shrubs to Enhance Landscaping
RELATED TOPICS: landscape design ideas